The making of RE:ACTING
Two weeks ago I wrote a post talking about how we shot our micro-budget short film. I talked about how we planned and shot one scene in the film.
I got some questions about where exactly the $3000 budget went, so I'm going to start this post by breaking down our costs.
Food & snacks for about 10-15 people per day (cooked in the evenings after the shoot) - $500
Camera equipment was mostly lent to us for free, but in order to move quickly we also had to rent two zoom lenses for seven days - $450
Props & costumes - $400
Location costs (parking, location rent etc..) - $400
Post-production - $1250
Keeping the budget this low was only possible because we were able to borrow a lot of gear, being smart about planning and making deals with other companies.
For example, we planned the shoot in June because that's the month most Swedes are on vacation and we managed to get sponsored by a production company that did not have anything scheduled during the shoot, they would let us borrow most of the camera and lighting equipment for the whole production.
Additionally, we managed to save costs on props by negotiating a deal with a company that rents out police gear for film, including cars. Usually this would cost a lot as police gear is highly regulated, but we were able to get what we needed for one day of shooting in exchange for doing a short production for the company.
Another place where we had to get creative with costs was locations. As we wanted to shoot a total of 26 scenes in 13 different locations, we had to choose and plan our locations and scenes carefully. Not only did they have to come for free or at least very cheaply, we also had to get to three locations per day with a small crew.
In the last post I talked about scene 3 in the film and how we shot it in about two hours from arriving at the location. After Scene 3 we drove about 20 minutes to the next location to shoot Scene 22 where we transformed an inconspicuous location into something that would work for the production in more ways than one.
Scene #22
Scene 22 is a police interrogation with the main character Karl, where he finally gets the courage to act well and completes his character arc.
The good thing about interrogation rooms is that when you really look at them and how they appear in films, they're just rooms with neutral-coloured walls and often a one-way mirror.
We realised that all we needed for this location was a white wall and enough space to fit a table and chairs. I figured the common room in the basement of my apartment building would fit our needs, and we could rent it for just $30 a day.
Doesn't look like much when you look at it like this, but just dress it up right and light it with intent and you can make anything work.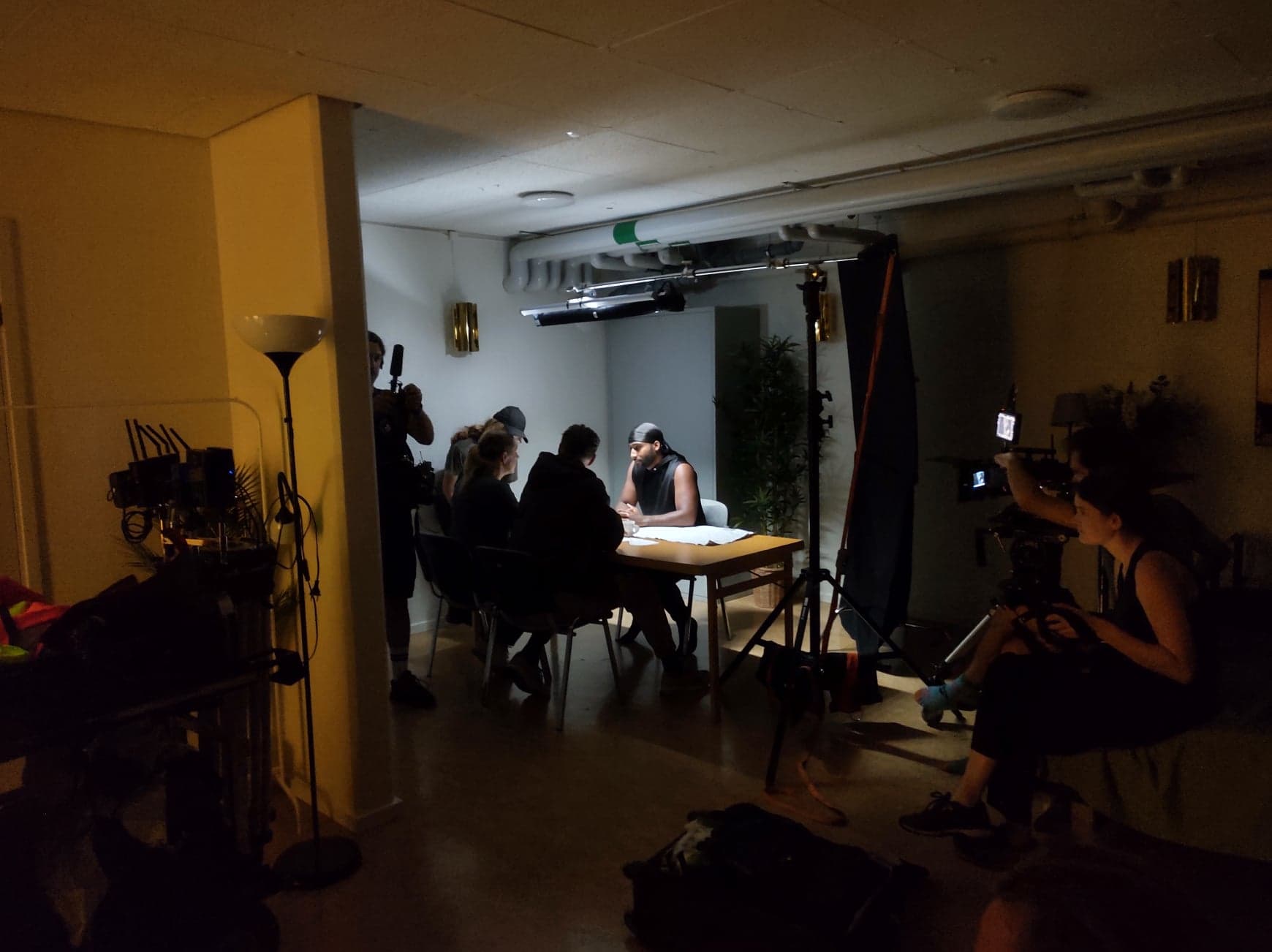 When I scouted this room there were several things that made me feel like this was going to make a good location:
Few, small windows, making it easy to block out sunlight
Big space, fitting the whole crew without problem
Access to a bathroom and a kitchen so we could break for lunch here. (which we did)
Bottom floor, so we could get our equipment in and out of the room quickly.
We shot during the daytime, so we had to block out the light from the windows and ended up using just an Astera tube with grid for lighting as well as a floppy for some negative fill.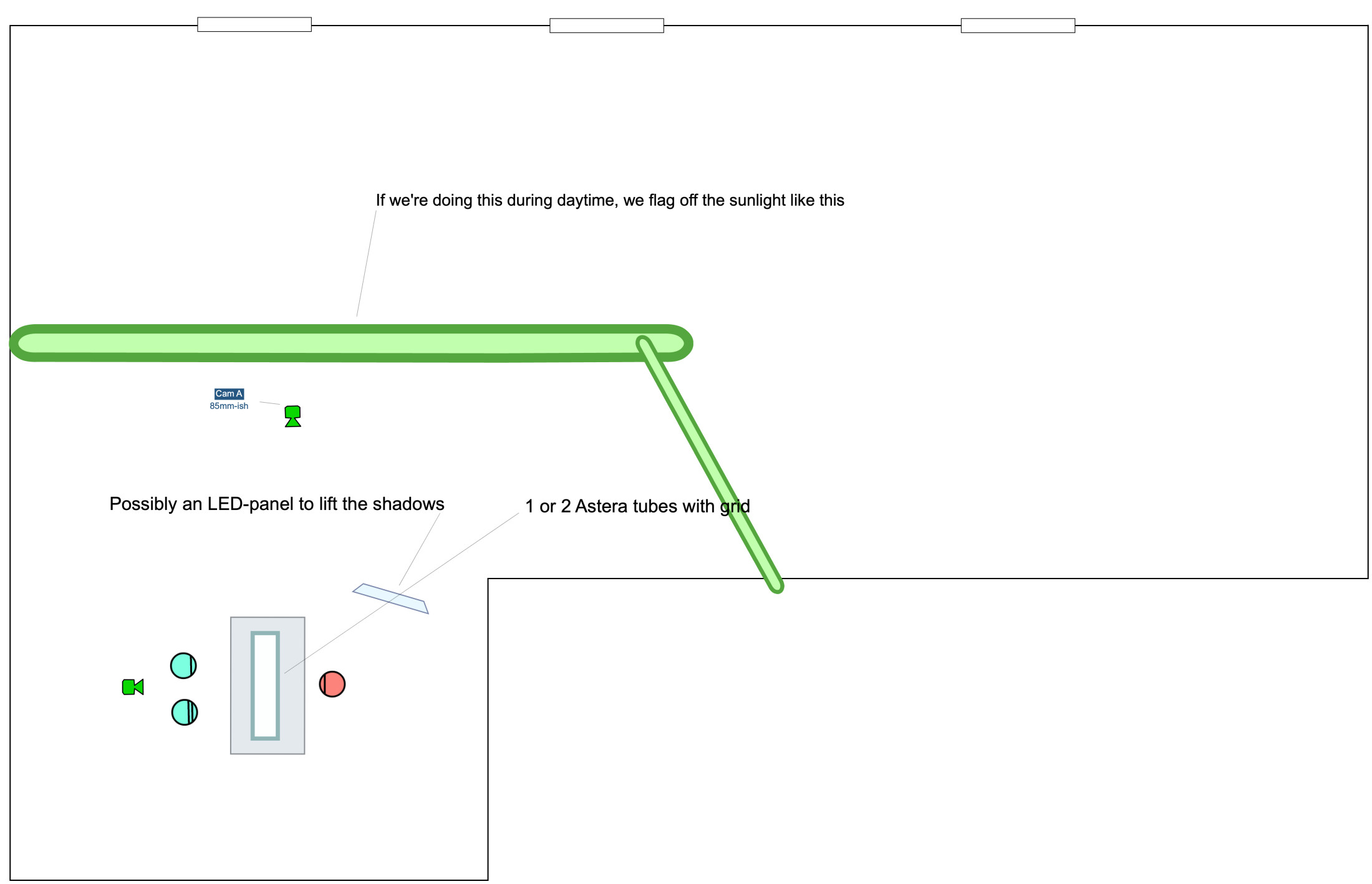 For this scene we chose to shoot from a 90-degree angle to emphasise the movement when Karl leans forward and takes control of the situation.
In contrast to the rest of the film which is shot around 28-35mm, we chose to use a tighter lens to make Karl appear more cramped up and put on the spot.
These are the two shots that run for most of this scene, and the third shot is of Karl's friend and dim-witted drug dealer Josef who is (poorly) trying to talk his way out of the situation.
This shot we chose to do from head-on with the police in silhouette instead. This is both because Josef is acting as comedic relief in the middle of a tense scene and comedy genereally plays better in a wider shot, and also because we wanted to sell the feeling of it being an actual interrogation room more.
Rounding up
This interrogation room scene is a simple scene but I still think that many good principles were applied in its planning. We kept the lighting simple, we got a location that was close to the other two locations of the day, we didn't have to do a lot of rigging, and in the end we shot it in a way that made it a lot more interesting than you'd expect when you saw the room for the first time.
So, the next time you're faced with a scene that you don't have the budget for. Take a step back and consider what the essential parts of the scene are. Then try to be creative with lighting and blocking to enhance your location. If you do this you can often get away with shooting a scene that you thought was out of your budget.
In the third part of this series I'll give another example of how we got away with shooting a scene that on the surface seems impossible at this budget - an interior scene in a moving car during night time.
Again, feel free to reach out to me if you have any specific questions.